About Us
#fightingptsdvicpol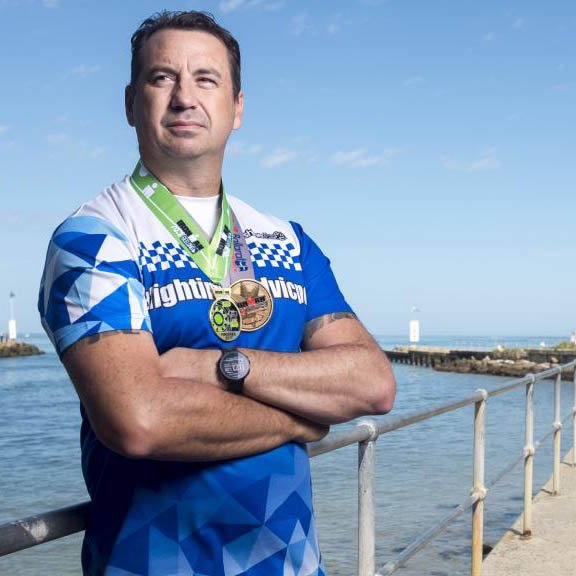 I am a current serving member with Victoria Police and over the past few years I have observed friends and work colleagues leaving the job due to PTSD. Some have committed suicide whilst some are on a long waiting list of up to 18 months for PTSD treatment.
It not only effects them personally it also effects family and friends.
15 years ago I recall my first day walking into the Victoria Police Academy and hearing the words –
"Welcome, You are about to have a front row seat to the world, You will see and encounter everything first hand, You will deal with situations that no one would think could or should ever occur. You will have to make split decisions on the spot and have no time to think about it. You will just do it"
My campaign with the assistance of all key stake holders – The Blue Ribbon Foundation, The VIctoria Police Association, ESSSuper, Bank VIC and in conjunction with my triathlon club – Mornington Peninsula Triathlon Club is to raise awareness and funds to battle the Black dog.
Is for all Victoria Police members and retired veterans to receive safe and secure treatment for PTSD and mental health related issues.
Awareness is critical and our aim is to promote an environment where members are able to freely discuss and receive personal treatment for their recovery needs.
We believe that having a safe and secure ward for the immediate treatment and management of members health is crucial to reducing the stigma of seeking assistance while promoting recovery.
By working together, we hope this campaign can help members attain the help needed to reduce the impact of traumatic incidents experienced in daily policing. 
This website and domain name is owned and operated by Glenn Holland. It is not under control of, maintained by, associated with, or officially endorsed by Victoria Police. Victoria Police is not responsible for, accepts no liability with respect to, and does not endorse, approve or make any warranty or claim in connection with, any material, content, products, services, opinions, advice, statements or other information available on this website (or any website or social media platform linked to this website) or in respect of the owner of this website or his conduct. Any funds raised in connection with the activities with this website (or any website or social media platform linked to this website) page are not received, accepted or obtained by Victoria Police. While Glenn Holland has been given permission to use the Victoria Police logo, website page users must not reproduce, transmit, adapt, modify, publish or otherwise deal with the logo for any purpose unless authorised to do so in writing by Victoria Police. 
For further website details please visit the privacy page on this website.